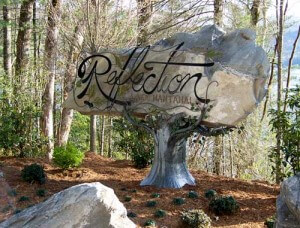 Thanksgiving is a time of reflection, of community, and of remembering the blessings and beauty present in our everyday lives. For the friends and neighbors in our mountain hamlet, that means enjoying the beauty of the docks and lake, the hiking trails, and the brilliant tapestry of fall foliage hanging just outside our cabin windows. But it also means remembering the journey of our forefathers. Lake Nantahala and its facilities have a rich and varied history. The Reflection community is proud to share the heritage of this scenic mountain lake getaway.
History of Lake Nantahala
Lake Nantahala, NC was once a home to over 4,000 Cherokee Indians. Our secluded home later drew several small communities of settlers who developed schools, stores, and mills in the area. The Nantahala Power and Light Company created the lake in the late 1920's, giving our mountain home energy, water, and a bevy of recreational activities. In the 70's the US Military used our lake for training drills, bringing a breath of excitement to our corner of the Nantahala National Forest. Today countless homeowners, tourists, and adventurers enjoy the same fresh air, outdoor exploration, and amenities as the Army Green Beret and Special Forces did then.
History of Lake's End Diner
We couldn't truly give thanks for the bounty of succulent dishes, savory spices, and decadent desserts gracing our holiday tables without thinking of our hometown mealtime getaway: Lake's End Diner. The site opened in the 50's and quickly became a community staple. In the 1960's the Griffing family added the diner and store that have served 50 years of friendly North Carolina folk. Lake's End Diner has seen years of tourists, army trainees, and familiar faces from the Lake Nantahala communities. Whether you come by boat, by car, or by foot, Lake's End Diner has all the homegrown southern cookin' your taste buds could desire.
As you give thanks for your family and friends this Thanksgiving, don't forget to say a blessing for the heritage-rich mountain lake community that you call home.